It can be upsetting to encounter hair loss because it can affect one's self-esteem and general well-being. A natural-looking and fashionable appearance can, fortunately, be restored thanks to hair systems. We'll explain why hair systems are a fantastic option for you if you're thinking about buying some, as well as where to get them in Germany and Australia.
What Are Hair Systems for Men?
Hair systems for men are innovative solutions designed to address hair loss and provide a natural-looking head of hair. These systems typically consist of a carefully crafted hairpiece, which is made from either synthetic or human hair. The hair is attached to a base, often made of lace or polyurethane, that mimics the appearance of the scalp. The hair systems are then securely attached to the wearer's head using adhesives or clips.
What sets hair systems apart is their ability to seamlessly blend with existing hair, resulting in a realistic and undetectable appearance. They can be customized to match the wearer's hair color, texture, and style, allowing for a personalized and natural look. Hair systems also offer versatility, as they can be styled, cut, and even colored to suit individual preferences. With their ability to restore confidence and transform one's appearance, hair systems have become a popular choice for men experiencing hair loss.
Why Choose Hair Systems for Men with Hair Loss?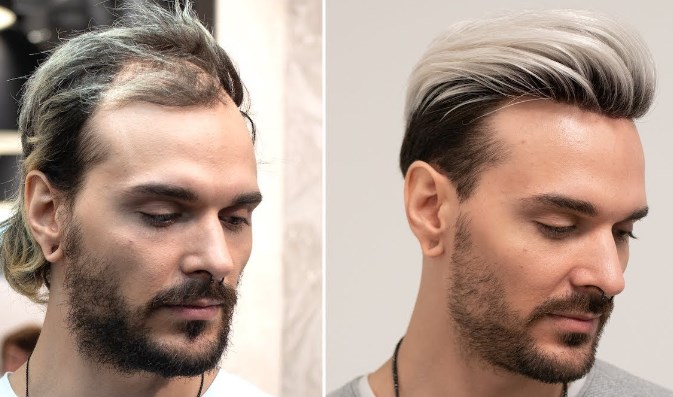 Hair systems provide a non-surgical option that allows men to regain a full head of hair and achieve a natural-looking appearance. They are a popular choice for people experiencing hair loss due to several reasons:
Natural Appearance

: Hair systems are designed to closely resemble natural hair, providing a seamless and realistic look. They are made using high-quality materials and can be customized to match the individual's hair color, texture, and style preferences.

Versatility

: Hair systems offer versatility in terms of style. They can be cut, styled, and colored to create various looks according to personal preference. This allows individuals to maintain their desired appearance and boost confidence.

Non-Surgical Solution

: Unlike surgical hair restoration procedures, hair systems provide a non-invasive and non-surgical solution for hair loss. This makes them a suitable option for individuals who prefer to avoid surgery or are not eligible for it.

Immediate Results

: Hair systems offer immediate results, allowing individuals to instantly regain a full head of hair. This is particularly beneficial for those who desire a quick and effective solution to address their hair loss concerns.

Cost-Effective

: Comparatively, hair systems are a more affordable option than surgical hair restoration procedures. They offer a cost-effective solution that can be replaced or upgraded as needed, making them accessible to a wider range of individuals.
Overview of Buying Hair Systems in Germany and Australia
Germany and Australia are countries where you can easily find and purchase hair systems to address hair loss.
In Germany, there are numerous reputable retailers and online platforms that offer a wide range of high-quality hair systems. These retailers provide a variety of options in terms of base materials, attachment methods, and hair types, allowing you to choose the most suitable hair system for your needs. You in Germany can also benefit from the expertise and guidance of professionals who can help you select the right hair system and provide support throughout the purchasing process.
Similarly, in Australia, you have access to a diverse selection of hair systems. There are reputable stores and online platforms that specialize in offering high-quality products. These platforms provide detailed information about hair systems, including color, texture, style, and attachment methods, making it easier for customers to make informed decisions. Additionally, you in Australia can rely on the convenience of online shopping, with doorstep delivery options available for a hassle-free purchasing experience.
Where to Buy Hair Systems in Germany?
Online retailers and websites
HairShop24
website: https://www.hairshop24.com/
Description: Toupees, wigs, and hairpieces are just a few of the many hair systems for men that HairShop24 has to offer. In order to accommodate individual tastes, they offer a variety of styles, colors, and materials.
Peruecken24
website: http://www.peruecken24.com/
Description: Men's alternatives are available from Peruecken24, a company that specializes in wigs and hair systems. They offer both ready-to-wear hairpieces and specially designed remedies. Customers may make educated decisions by using the website's thorough product descriptions and photographs.
Local hair salons and wig shops
Hair Systems Heydecke
Description: Known locally in Germany, Hair Systems Heydecke is an expert in wigs and hair extensions. For men and women who are balding or want to look better, Hair Systems Heydecke provides a variety of high-quality wigs and hairpieces.

Address: Altstädter Str. 6, 20095 Hamburg, Germany

Areas served: Hamburg

Hours: 10 AM–6:30 PM

Phone: +49 40 37519928
Review:
Dening Hair GmbH
Description: Dening Hair GmbH, based in Hamburg, is a long-standing family business that has been operating in the hair replacement industry for over 50 years. They have established themselves as specialists in the import and wholesale of wigs, toupees, extensions, and hairpieces.

Address: Sorthmannweg 18, 22529 Hamburg, Germany

Hours: 9 AM–5 PM

Phone: +49 40 4501720
Review:
Where to Buy Hair Systems in Australia?
Online marketplaces and stores
HairHub
website: https://hairhub.com/
Description: HairHub is an online store based in Australia that specializes in hair replacement systems for men and women. They offer a wide range of high-quality hair systems, including full lace wigs, toupees, and hair extensions.
Hair Replacement Australia
website: https://www.hairreplacementaustralia.com.au/
Description: Hair Replacement Australia is an online store that specializes in hair replacement systems for men and women. They offer a range of products, including wigs, hairpieces, and extensions, and they have a large selection of styles and colors to choose from.
Local hair salons and wig shops
Modern Techniques Hair Studio
Description: Modern Techniques is a family owned hair replacement company providing clients with professional, confidential and friendly caring long lasting hair loss solutions. We have been dedicated specialists in hair additions since 1993.

Address: 66 Brewer St, Perth WA 6000, Australia

Areas served: Fremantle and nearby areas

Hours: 9 AM–5:30 PM

Phone: +

61 8 9228 2345
Review:
Curly Sue's Wigs and Hairpieces
Description: Curly Sue's is a family owned and operated business that provides high quality wigs, toppers, hairpieces, and accessories. Appointment required on Saturdays for wigs and toppers.

Address: 2/113 Russell St, Morley WA 6062, Australia

Areas served: Australia and nearby areas

Hours: 10 AM–5PM

Phone: +

61 8 9276 7359
Review:
Factors to Consider When Choosing Hair System Stores
Reputation and Credibility:

Ensure the store has a good reputation, positive customer reviews, and a history of providing high-quality products and excellent customer service.

Product Quality

: Assess the durability, realism, craftsmanship, natural appearance, and longevity of the hair systems offered by the store.

Range of Options

: Look for a store that provides a wide variety of hair system styles, colors, lengths, and base materials to suit your preferences and needs.

Customer Support

: Evaluate the responsiveness, guidance, and assistance provided by the store's customer support team. Knowledgeable staff who prioritize customer satisfaction are essential.

Return Policy and Warranty

: Check the store's return policy to ensure it is fair and accommodating if you're unsatisfied with your purchase. A warranty can also provide peace of mind regarding the quality and durability of the hair system.

Pricing and Affordability

: Compare prices at different stores while considering the balance between affordability and quality. Be cautious of overly low prices, as they may indicate lower quality products.
Buy Men's Hair Systems from Rehairsystem.com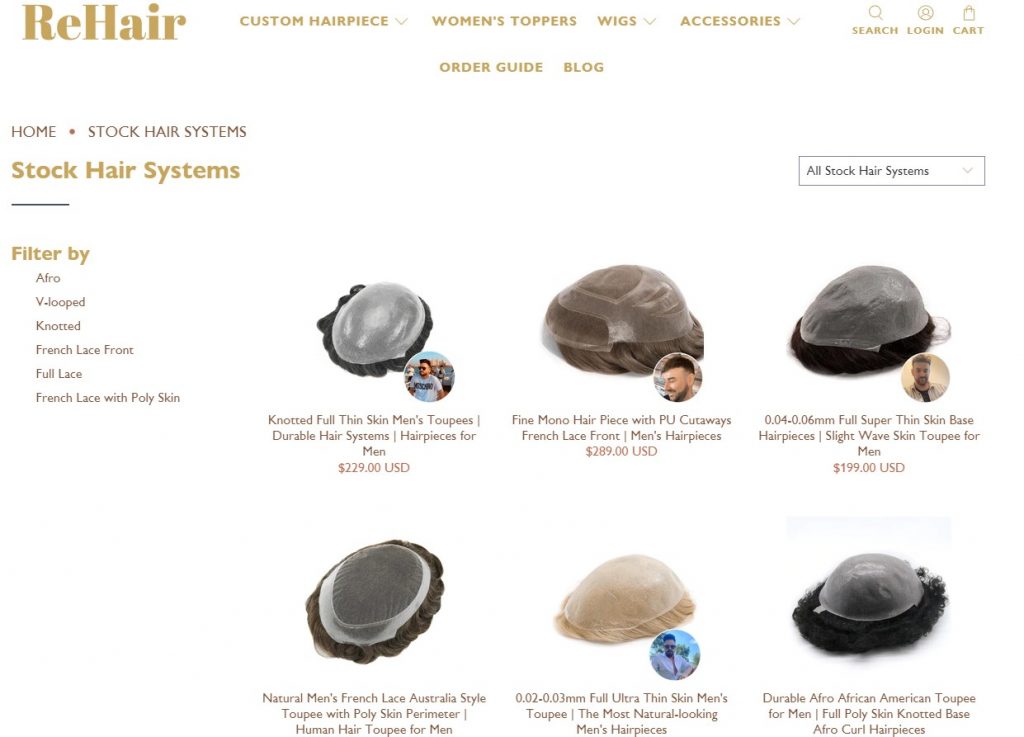 Rehairsystem.com is a comprehensive online store dedicated to providing men with high-quality hair systems. As a reputable website, we offer convenient services and worldwide shipping, including the USA, Australia, Canada, United Kingdom, Germany, Malaysia, and Italy. Whether you're in any corner of the world, we ensure that our services are accessible to you.
Our website serves as an extensive global toupee store, offering a diverse range of options to cater to various preferences. You'll be delighted to discover an extensive collection of men's hair systems, showcasing an array of styles, colors, and materials.
We strive to provide a comprehensive selection of options, including lace front systems, full cap systems, and even custom-made systems. This way, you can personalize your hair system to perfectly suit your desired look and enhance your self-confidence.
Conclusion
Hair systems provide a reliable and versatile option for individuals dealing with hair loss or simply looking to transform their look. Whether in Germany or Australia, numerous reputable retailers and online platforms offer a wide range of high-quality hair systems to suit diverse needs and preferences. Don't let hair loss hold you back; learn about hair systems to reclaim your confidence and sense of style.