Chris Hemsworth is one of the most popular actors in Hollywood. But, one thing that has been the source of much interest and speculation is Chris Hemsworth's Hairline. Fans have been debating for years about whether Chris Hemsworth has a receding hairline, and if he has ever undergone a hair transplant. Here, we will explore the mystery and evolution of Chris Hemsworth's hairline.
Chris Hemsworth: An Overview
Chris Hemsworth is an Australian actor known for his roles as Thor in the Marvel Cinematic Universe and as James Hunt in Rush. He was born on August 11, 1983, in Melbourne, Australia, and began his acting career on Australian television before breaking into Hollywood.
As of 2021, Chris Hemsworth's net worth is estimated to be around $130 million. He has earned his wealth through his successful acting career and brand endorsements.
Hemsworth's hair has become iconic, with his long blonde locks becoming a signature part of his Thor character. However, he has also been known to change up his hairstyle for other roles, such as his buzzed head for his role in Thor: Ragnarok.
In addition to his acting career, Hemsworth is also known for his fitness and health advocacy. He regularly shares workout and diet tips on his social media channels and has even launched his own fitness app, Centr.
Overall, Chris Hemsworth's career continues to thrive with new projects on the horizon, and fans eagerly await his next big role.
Chris Hemsworth's Hairline
One of the most striking features of Chris Hemsworth's Hair is his hairline.
His Hairline Feature: The Widows Peak
Hemsworth has a distinctive widow's peak hairline that adds character to his overall look. His widow's peak hairline is characterized by a central V-shape point in the hairline, commonly inherited from one's parents. This feature of Hemsworth's hairline is a stand-out feature that many of his fans admire. This characteristic is common among individuals of northern European ancestry and is traditionally associated with strength and masculinity. Hemsworth's widow's peak is particularly prominent, accentuating his appearance as Thor and his status as a leading player in Hollywood.
In the course of time, Hemsworth's hairline has undergone subtle transformations that are generally linked to aging and fluctuations in weight. As men grow older, their hairline frequently starts to recede, and balding in specific regions is a typical occurrence.
His Thor Hairline
Chris Hemsworth's portrayal of Thor in the Marvel Cinematic Universe brought a new hairstyle trend that is now often referred to as "The Thor Hairline." The Thor Hairline is an asymmetrical hairline, with the left side pushed back and the right side a bit further forward. This hairstyle has become iconic in the world of cinema and has helped solidify Hemsworth's status as a style icon.
A Receding Hairline?
Many people have speculated that Chris Hemsworth has a receding hairline due to his widow's peak, but there is no clear evidence to confirm this. His hair does appear to be thinning slightly, but this could be due to natural aging rather than male-pattern baldness.
Read More: Best Buzz Cut for a Receding Hairline
The Mystery of Chris Hemsworth's Hairline
Despite the fact that he has entered his forties and is approaching middle age, Hemsworth has managed to maintain a full head of hair, with no visible signs of thinning or balding.
This has left fans wondering how he has managed to hold onto his hairline so well as he ages. Some have speculated that he might have undergone hair restoration treatments, while others believe that he simply has excellent genetics.
It is also worth noting that Hemsworth has sported a variety of hairstyles over the years, from his signature Thor locks to shorter, cropped cuts. Despite these changes, he has managed to maintain a consistent hairline, suggesting that any hair loss he has experienced has been minimal.
Given the importance placed on appearance in Hollywood, it's no surprise that celebrities like Hemsworth invest significant time and resources into maintaining their looks. Whether his pristine hairline is the result of good genes, careful grooming, or medical interventions, it's clear that Hemsworth's locks continue to be a major part of his appeal as a leading man.
The Evolution of Chris Hemsworth's Hairline
Chris Hemsworth's hairline has undergone various changes throughout his career. When he first appeared on-screen, his hairline was low and full. However, as he aged, his hairline began to recede gradually. By the time he starred in the movie Rush in 2013, his hairline had become more pronounced, with a slightly higher hairline.
Over the years, Hemsworth has experimented with various haircuts and styles. He has been seen with long locks and a ponytail, which accentuated his chiseled features. Additionally, he has also sported a buzz cut, which highlighted the sharp angles of his face. Regardless of the style he chooses, his hairline has remained a distinctive feature.
Even though the changes in his hairline, Hemsworth continues to be recognized for his striking looks and innate charm. He has become an icon in the entertainment industry, and his hairstyles, including his hairline, are dissected and admired by fans.
Does He Do A Hair Transplant: Is There Any Evidence?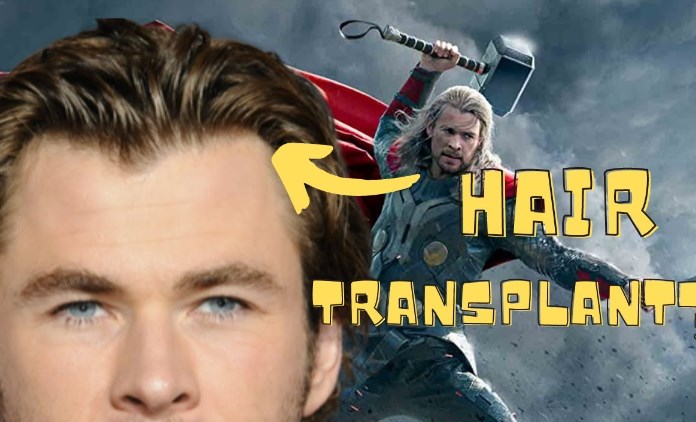 Despite natural changes in his appearance, rumors about Hemsworth undergoing cosmetic surgery to maintain his hairline persist. Fans have speculated that he may have had a hair transplant, a common procedure for men experiencing significant hair loss or thinning.
But, there is no concrete evidence to support these claims. The actor has never confirmed any type of cosmetic surgery, and there is no significant difference in his hairline that would indicate a transplant. It is also worth noting that hair transplants can be difficult to detect, even when performed by skilled surgeons.
It is important to consider other factors that can influence a person's hairline, such as genetics, aging, and weight fluctuations. While it is possible that he had a cosmetic procedure, it is equally possible that his hairline has simply changed naturally over time.
Achieving a Natural Hairline by Wearing Men's Frontal Hairpiece
While it may not seem like a good idea to wear a wig or wig for a celebrity, many celebs have done it. A natural hairline is a significant factor for both men and women. However, the use of hairpiece for men has become a more modern trend, with hairstyles requiring a more natural hairline.
Here we are proud to introduce our store Rehairsystem.com, a specialized toupee retailer, we can help you find men's forehead hairpiece with guaranteed quality.
The purpose of our shop is to provide premium and customized hairpieces for men and women. We offer synthetic and human hair wigs, as well as wigs and extensions, and strive to provide thoughtful and personal service to each customer. Our goal is to help customers find a wig that looks and feels natural, is comfortable, and matches their personal style.
Introducing the perfect solution for men experiencing receding hairlines – the Men's Frontal Hairpiece! With this hairpiece, there's no need to shave your hair. Simply bond the piece to your front hairline and enjoy a full head of hair instantly.
The hairpiece comes available in two base sizes. The base is made out of full skin and V-looped, ensuring natural coverage and comfortability. The hair length is 6 inches and has a hair density of 110%, providing volume to your hair. The straight curl and wave style gives you a neat and tidy appearance that you can be proud of.
Base Size: 2.5cm x16cm (1"x 6"), 4cm x18cm (1.6"x7")

Base Type: Full Skin, V-looped

Hair Length: 6″

Hair Density: 110%

Curl & Wave: Straight

Skin Thickness: 0.08mm

Hair Color: Natural Color

Hair Type: Indian Remy Human Hair

Hair Direction: Free Style

Front contour shape: CC

Price: $69.00
FAQs
Does Chris Hemsworth wear a wig for Thor?
It's unclear if Chris Hemsworth wears a wig for Thor. However, it's common for actors to use hairpieces or extensions to achieve a character's look. Additionally, Chris Hemsworth has naturally thick and luscious hair, which might have contributed to his hairstyle in the Thor movies.
What causes Chris Hemsworth's hair loss?
There's no evidence to suggest that Chris Hemsworth has hair loss. He has kept a similar hairstyle throughout his career, and his hair appears to be in good condition.
Did Tom Hiddleston wear a wig in Thor?
Tom Hiddleston wore a wig for his portrayal of Loki in the Thor movies. He has short hair in real life, and the long, black-haired look is part of the character's comic book appearance.
Is Captain America's hair a wig?
Chris Evans wore a wig for Captain America: The First Avenger because he had a buzz cut for another film. However, he grew his hair for subsequent movies and did not wear a wig in them.
Conclusion
Chris Hemsworth continues to wow fans with his impressive talent and stunning looks. While his hairline has been the subject of much speculation, there's no solid evidence that he's had a hair transplant or is experiencing severe hair loss. Regardless, it's clear that Chris Hemsworth's hairline is a defining feature of his overall look and style.