A common treatment for hair loss and thinning hair, hairpieces provide an easy approach to improving your appearance. However, how can you choose the best option for you when there are so many accessible in the UK and Ireland? So, we shall therefore address your confusion now.
What Are Hairpieces?
Definition of hairpieces
Hairpieces are accessories or systems used to cover areas of hair loss or add volume to natural hair. They come in different types like toupees, hair toppers, full wigs, extensions, or ponytail hairpieces. They can be made from real human hair or synthetic materials.
Hairpieces are a non-surgical solution for hair loss or for those who want to change their hairstyle temporarily. They are available in various sizes, colors, lengths, and textures to suit individual preferences. Hairpieces can be attached with clips, adhesives, tapes, combs, or integrated systems. They offer a customizable option to transform hair and enhance appearance.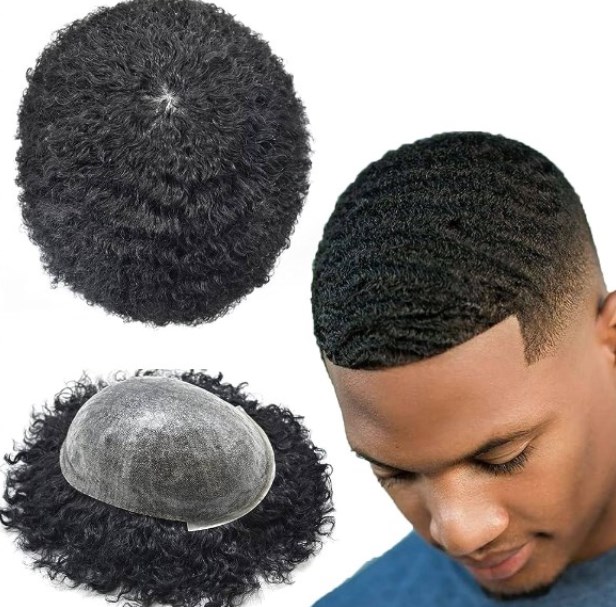 Types of hairpieces
Wigs
Wigs are full hair coverings that can be made from natural human hair or synthetic materials. They come in various styles, lengths, colors, and textures. Wigs can be worn for fashion purposes, to change one's appearance, or as a solution for medical conditions causing hair loss.
Hair extensions
Hair extensions are used to add length or volume to natural hair. They can be made from human hair or synthetic materials and are available in different attachment methods, such as clip-in, tape-in, sew-in, or fusion.
Hair toppers
Hair toppers, also known as hairpieces or wiglets, are smaller hairpieces that are designed to cover specific areas of the scalp where hair loss or thinning is more pronounced. They are attached to the existing hair or directly to the scalp using clips, tapes, or adhesives.
Ponytail extensions
Ponytail extensions are hairpieces that can be attached to natural hair to create longer or thicker ponytails. They are available in different lengths, styles, and attachment methods.
Bangs and fringe extensions
Bangs or fringe extensions are hairpieces that specifically add bangs or fringe to the front of the hairline. They can be used to change one's hairstyle or to cover up a receding hairline.
Hair wraps and braids
Hair wraps and braids are decorative hairpieces that can be used to add flair or style to natural hair. They come in various colors, patterns, and textures, and can be wrapped around the existing hair or attached using clips or combs.
Benefits and drawbacks of using hairpieces
Benefits:
Instant transformation of hairstyle and appearance.

Provides coverage for areas of hair loss or thinning.

Boosts self-confidence and improves self-esteem.

Offers versatility in styles, lengths, and colors.

Easy to use and convenient for quick hair changes.
Drawbacks:
Requires regular maintenance and care.

Potential discomfort or irritation if not properly fitted or attached.

This may create dependency and reliance on wearing the hairpiece.
How to Pick the Best Hairpiece for Men or Women?
Here's a detailed guide on choosing the best hairpiece for men or women:
Determine your needs
Before you start looking for a hairpiece, it's essential to understand what you're looking to achieve. Consider factors such as the level of coverage needed, desired hairstyle, and whether you want a temporary or permanent solution.
Hair type and color
Look for a hairpiece that matches your natural hair type, texture, and color. This will ensure a seamless blend and a more realistic appearance. If you can't find an exact match, consider getting a hairpiece that can be customized or professionally dyed to match your natural hair.
Material
Hairpieces are typically made from human hair, synthetic hair, or a blend of both. Human hair offers the most natural look and feel but is often more expensive. Synthetic hair is more affordable and requires less maintenance but may not look as natural. Consider your budget and desired level of maintenance before deciding on the material.
Style and versatility
Choose a hairpiece that allows for different styling options. Look for features such as the ability to be cut, styled, or even heat-styled if desired. This flexibility will allow you to change your hairstyle according to your preferences and keep up with current trends.
Comfort and fit
A well-fitting hairpiece is crucial for a natural and comfortable experience. Measure your head size accurately and look for hairpieces that offer adjustable straps or clips for a secure fit. It's also advisable to consult with a professional stylist who specializes in hairpieces to ensure proper fitting and customization.
Quality and durability
Invest in a high-quality hairpiece that will last longer and maintain its appearance over time. Look for reputable brands and read reviews from other customers to assess the quality and durability of the hairpiece before making a purchase.
Maintenance requirements
Consider the maintenance requirements of the hairpiece before finalizing your choice. Human hair usually requires more care and styling products, while synthetic hair may have specific washing instructions. Make sure you are comfortable with the maintenance routine involved to keep your hairpiece looking its best.
Seek professional advice
If you're unsure about choosing the right hairpiece, consider seeking professional advice from a hair specialist or stylist who can guide you through the process. They can help assess your needs, provide recommendations, and assist with fitting and styling.
Where to Buy Hairpieces in the United Kingdom?
Physical Stores in the UK
Gali Wigs
Description: Gali Wigs specializes in providing solutions for hair loss, offering bespoke, made-to-measure, or ready-to-wear hairpieces. Whether it's for Alopecia, chemotherapy side effects, general hair loss, or religious obligations, Gali Wigs is committed to providing assistance and support.

Address: Gali Wigs House, Monks Way, London NW11 0AF, United Kingdom

Hours: 9 AM–4 PM

Phone: +44 20 8455 0349
Review:
Hair Masters
Description: Hair Masters is dedicated to providing the highest quality hair at affordable prices. Whether customers are seeking a change of look or dealing with hair loss caused by Alopecia, medical conditions, or cancer treatment, Hair Masters offers exquisite hair solutions.

Address: Hair Masters, 88 Battersea Rise, London SW11 1EJ, United Kingdom

Areas served: Central London and nearby areas

Hours: 9 AM–5 PM/9:30 AM–6 PM

Phone: +44 20 7228 1520
Review:
Online Retailers in the UK
Hothair
Website: https://www.hothair.co.uk/
Description: Hothair is a well-known and reputable online retailer in the UK that specializes in hairpieces and wigs. Hothair provides various styles, colors, and lengths to help customers achieve their desired look. Their website features detailed product descriptions, images, and customer reviews to assist in making informed choices.
Natural Image Wigs
Website: https://www.naturalimagewigs.co.uk/
Description: Natural Image Wigs is a reputable online retailer in the UK that specializes in offering a wide selection of high-quality wigs and hairpieces. They are known for their commitment to providing natural-looking hair solutions for individuals experiencing hair loss or looking to change their hairstyle.
Where to Buy Hair Hairpieces in Ireland?
Physical Stores in Ireland
HairWeavon
Description: HairWeavon is a prominent hairpiece shop located in Dublin, Ireland. With their expertise in hair replacement techniques, HairWeavon offers a range of carefully crafted wigs and hairpieces that are designed to look natural and enhance the confidence of their customers.

Address: First floor, 302 Rathmines Rd Lower, Rathmines, Dublin, D06 R3K6, Ireland

Hours: 10 AM–6 PM

Phone: +353 1 430 3978
Review:
Hair Club Wigs Dublin
Description: Hair Club Wigs in Dublin is a specialized hair loss solutions provider for women seeking wigs and hairpieces. Their Dublin-based shop caters to clients with various needs, including those facing medical conditions such as cancer and undergoing chemotherapy treatment.

Address: 34 Donnybrook Rd, Dublin 4, D04 P9R6, Ireland

Areas served: Dublin and nearby areas

Hours: 10 AM-6 PM

Phone: +353 1 260 8874
Review:
Online Retailers in Ireland
HairWeavon
Website: https://www.hairweavon.com/
Description: HairWeavon is an established online retailer based in Dublin, Ireland, offering a wide selection of high-quality hairpieces and wigs for men and women experiencing hair loss.
Joseph's Wigs
Website: https://www.josephs-wigs.com/
Description: Joseph's Wigs is an online retailer based in the UK but offers shipping to Ireland. They have a wide selection of real hair wigs and hairpieces, including customized options, to help individuals regain their confidence and achieve natural-looking hair.
Purchase High-quality but Cheap Hairpieces from Rehairsystem.com
Rehairsystem.com offers several advantages as a toupee store, even for customers in the UK, and Ireland.
We provide a diverse range of toupee options, ensuring that customers can find the perfect match for their style, color, and hair loss needs. The toupees offered by us are made from high-quality materials, including real human hair and synthetic fibers, to provide a natural-looking appearance and durability.
Furthermore, we offer customization services, allowing customers to tailor their toupees to fit their specific requirements and preferences. And we ship our products globally, including to the USA, Australia, Canada, Thailand, UK, Ireland, Poland, South Africa and other countries, ensuring that customers can enjoy their services regardless of their location.
Our online platform of us allows for secure and convenient ordering, making it easy for you to browse, select, and purchase your desired toupee from the comfort of your own home.
Tips for Choosing Hairpiece Supplier in Ireland and UK
Conduct thorough research to find reputable suppliers with positive reviews and a good reputation.

Look for suppliers that offer high-quality hairpieces made from natural-looking materials.

Choose a supplier that offers a wide range of hairpiece styles, colors, and lengths to cater to different preferences.

If needed, opt for a supplier that offers customization options to ensure the hairpiece meets your specific requirements.

Select a supplier that provides excellent customer service, including responsive communication and assistance with any concerns or questions.

Check the supplier's return policy to ensure you have the option to return or exchange the hairpiece if it doesn't meet your expectations.

Consider the price range offered by different suppliers and compare it with the quality and features of their hairpieces.
FAQs
What is the difference between a toupee and a hairpiece?
A toupee is a smaller hairpiece that typically covers a specific area of hair loss, such as the crown or top of the head. On the other hand, a hairpiece is a more encompassing term that refers to any type of hair replacement system or extension, including full wigs.
Can men wear hair toppers?
Yes, men can wear hair toppers.
Why do men wear hairpieces?
Some wear them to conceal hair loss or thinning, while others use them to explore different hairstyles or simply enhance their appearance.
What is the difference between a wig and a hairpiece?
A wig is a complete head covering that replaces all the natural hair, while a hairpiece covers specific areas of hair loss or adds volume to existing hair.
Conclusion
Hairpieces can be a transformative solution for those experiencing hair loss or looking to change their hairstyle. By considering factors such as material, style, and maintenance, you can find the perfect hairpiece that suits your needs and enhances your confidence. With the wide range of options available in the UK and Ireland, you can confidently choose the best hairpiece to achieve the look you desire.