Does Tom Selleck wear a toupee? The iconic actor, known for his distinguished mustache and roles in hit shows like Magnum, P.I., has sported a full head of luscious hair throughout his career. Here we examine Tom Selleck's hair and try to answer whether he wears a toupee.
Tom Selleck and Blue Bloods
One of the best performers of the 1990s and a well-known character in pop culture, Tom Selleck is still well-known and loved today. Although Selleck is best known for playing Thomas Magnum on the crime drama "Magnum P.I.,". His performances as a guest on "Friends" and his depiction of Commissioner Frank Reagan on the popular long-running series "Blue Bloods" have further cemented his reputation.
The popular police procedural "Blue Bloods" distinguishes itself from other cop programs by concentrating on a blood-related family with a history in law enforcement. Since Commissioner Frank Reagan serves as both the head of the NYPD and the family patriarch, Tom Selleck's portrayal of him is essential to the success of the program.
His modest yet tough masculinity gives the role substance, and the show gains a powerful and enduring presence. The family dinners in "Blue Bloods" wouldn't be the same without Tom Selleck.
Does Tom Selleck Wear A Toupee?
Through an interview that Tom Selleck, he chooses to wear a hairpiece, more precisely a toupee, as part of his grooming routine. This fact has been freely acknowledged by the actor, who also provided information on the characteristics of his hairpiece. He reveals that his toupee is made with actual human hair. Additionally, Selleck's hairpiece has a price tag of about $7,000, which is super expensive.
What's a toupee?
A toupee is a partial hairpiece or wig that is designed to cover baldness or add volume and thickness to the existing hair. It is typically used by people who experience hair loss or thinning in specific areas of their scalp.
Toupees are usually made from either human hair or synthetic materials and are crafted to match the wearer's natural hair color and texture. They can be attached using adhesives, clips, or other methods to ensure a secure fit. Toupees are popular among those seeking to enhance their appearance by adding the illusion of a full head of hair.
Does any Hollywood actor wear a toupee?
Yes, Hollywood actors frequently sport toupees or other hair accessories. In order to preserve their ideal appearance on screen, many performers rely on these hair extensions. Like Ted Danson, Nicolas Cage, and John Travolta.
While not all actors choose to disclose this information, some have openly admitted to wearing toupees or have been speculated to do so based on their changing hairstyles over the years. The choice to wear a toupee is frequently influenced by personal taste and the need to keep a fresh appearance in the competitive world of show business.
Is Tom Selleck Going Bald?
While it is true that his hair has grown out and become grayer over the years, many people see this as a normal part of aging. The onset of graying and thinning hair does not always portend eventual baldness. Genetics, lifestyle, and general health are just a few of the variables that might affect hair thinning and color changes. So whether is Tom Selleck going bald in future is still speculative.
How to hide his baldness?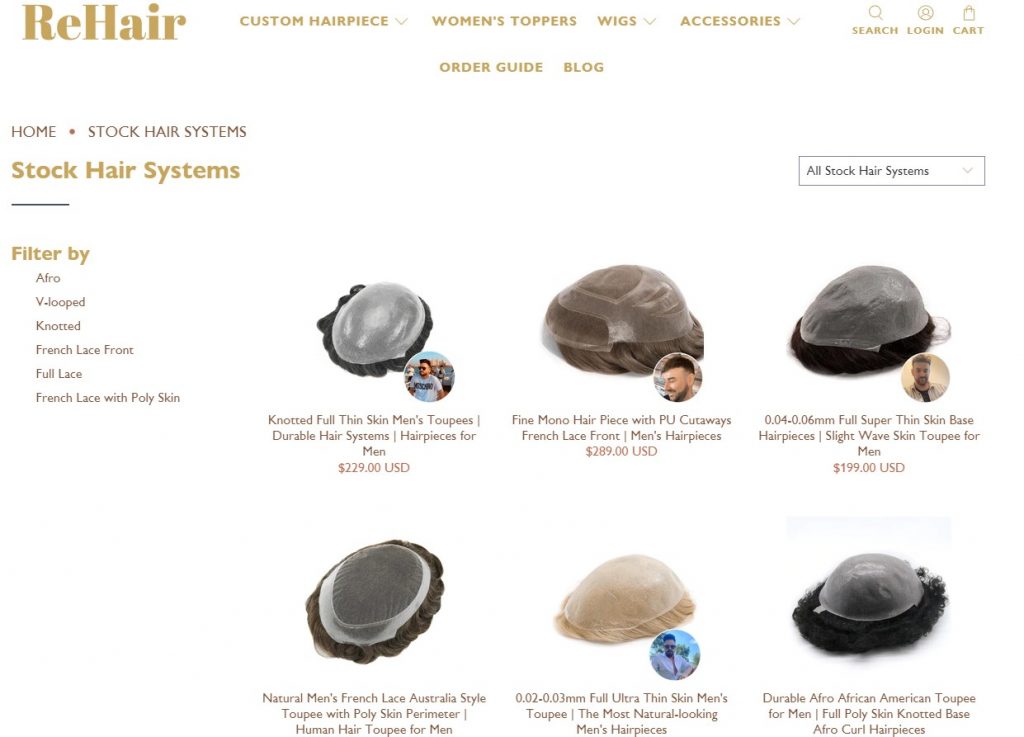 One way to hide baldness is by wearing a toupee. Toupees are designed to cover areas of hair loss and provide the appearance of a fuller head of hair. When choosing a toupee, it is essential to select one that matches your natural hair color, texture, and style for a seamless blend. Properly fitting and securing the toupee is also crucial to ensure a natural look and comfortable wear.
Fortunately, there is an online toupee store that is suitable for you if you wish to employ this method of baldness concealment. At Rehairsystem.com, we take pride in offering cost-effective toupees that are available for shipping worldwide. No matter where you are located in the UK, Germany, Sweden, or Netherlands et., you can enjoy the convenience of shopping from our online store and have your desired toupee delivered right to your doorstep.
We understand that everyone's needs and preferences are unique, which is why we also offer custom services to ensure that you get a toupee that perfectly suits your style. Our wide range of toupees includes options made from high-quality human hair or synthetic materials. Whether you're looking for a specific color, length, or texture, we have a variety of styles to choose from.
At Rehairsystem.com, customer satisfaction is our top priority. We guarantee the quality of our products and provide ongoing support throughout your hair loss journey. Whether you're a first-time buyer or a long-term customer, we are here to assist you every step of the way.
Tom Selleck's Haircuts Through The Years
Tom Selleck has sported various haircuts throughout his career. In the early 1980s, during his iconic portrayal of Thomas Magnum in the TV series "Magnum, P.I.", Selleck rocked a signature hairstyle characterized by his thick, wavy, and medium-length hair, often styled in a casual yet stylish manner. This hairstyle became synonymous with his on-screen persona.
As the years went by, Selleck's hairstyles evolved along with fashion trends. In the 1990s, he experimented with shorter haircuts, sometimes opting for a neat and tidy look with a slight quiff or a side-parted style. During this period, his hair color also transitioned to a salt-and-pepper gray, adding a touch of maturity to his appearance.
In more recent years, Selleck has continued to embrace his natural charm, often seen with a slightly longer haircut that maintains his distinguished gray hue. He generally keeps his hair well-groomed and neatly styled, reflecting his timeless and classic sense of style.
He Dislikes Dying Hair
Tom Selleck has made it clear that he prefers to embrace the color of his hair naturally. Selleck stated in a GQ interview that he had gray hair mixed in and that his salt and pepper hair is real. In preparation for his part in the television series "Blue Bloods," he even applied gray to his mustache. For Selleck, the graying of his hair has been seen as a blessing, softening the effects of aging while remaining true to himself.
Tom Selleck's Iconic Mustache
One of Tom Selleck's most recognizable traits that spring to mind right away is unquestionably his mustache. The actor's facial hair has amassed such a large and recognizable fan base on Facebook that it even has its own page with over 40,000 friends. Selleck's mustache has evolved beyond the realm of personal style to become a representation of his public character and on-screen persona.
Tom with and without his mustache
Tom Selleck's mustache has become such an integral part of his identity that seeing him without it is indeed a surprising sight. The actor, who has been synonymous with his facial hair since the 1980s, appears remarkably different without his signature mustache. It has become challenging to imagine him without that distinctive feature, as it has become inseparable from his on-screen persona.
FAQs
Has Tom Selleck ever been clean-shaven?
Yes, Tom Selleck has been clean-shaven in certain roles and off-screen as well.
What is Tom Selleck's mustache called?
Tom Selleck's mustache is often referred to as the "Tom Selleck mustache" or simply "Selleck mustache." It has become iconic and synonymous with his image.
Was Tom Selleck supposed to be Indiana Jones?
Tom Selleck was initially considered for the role of Indiana Jones in the movie "Raiders of the Lost Ark." However, due to contractual obligations to the television series "Magnum, P.I.", he had to turn down the opportunity, and the role eventually went to Harrison Ford.
What is Tom Selleck's salary?
Selleck's paycheck is $200k per episode.
Conclusion
How a person chooses to handle their hair loss is ultimately a personal decision. Tom Selleck has publicly acknowledged using a toupee, claiming that it is made of human hair and is quite expensive. This revelation underscores the fact that celebrities, like everyone else, have the ability to choose how they show themselves and adds to the continuing discussion concerning the use of hairpieces in the entertainment business.