Kevin Durant is a professional NBA basketball player and one of the most dominant athletes in the sport. One of his most recognizable features is his hair. Over the years, it has been a topic of discussion among fans and the media alike. Recently, Durant's hair has thinned and receded, causing many to wonder if he should wear a hairpiece.
What is Kevin Durant's Latest Haircut Look Like?
Based on the latest pictures available online, Kevin Durant's recent hairstyle has been a short, buzz cut with a faded line on the sides. To know this NBA Star's haircuts over the years, you can read our this blog post about Kevin Durant's Haircut.
Reasons Why Kevin Durant Should Wear A Toupee
Boost his confidence
For many people, their hair is an essential part of their identity. Losing it can cause significant emotional distress, and Durant is no exception. Wearing a wig could give him the confidence boost he needs to excel on and off the court. In interviews and public appearances, a full head of hair could make him feel more comfortable and present himself with more confidence, which could help him in his game.
Make him look younger
Let's face it; Durant is not getting any younger. He may only be 32 years old, but basketball players' careers are notoriously short. A full head of hair could make him look younger and more vibrant, which could help to extend his career.
Improve his image
Durant has always been a media-savvy player, but recently he's been criticized for his somewhat erratic behavior. Wearing a wig could help him present a more polished and put-together image in the media.
Pros and Cons of Wearing A Hairpiece
Advantages:
Improve aesthetics: Wearing a wig can give Durant more options when it comes to his appearance. With a full head of hair, he can change his hairstyle or color with ease, which adds versatility.

Boosting Self-Esteem: Confidence is incredibly important in sports, wearing a wig could give him a confidence boost that might be reflected on the field.

Improve public image: Nowadays, image is everything in professional sports, and a full head of hair could drastically improve the public's perception of him.
Shortcomings:
Expensive Maintenance: Wigs need maintenance just like natural hair. Premium wigs can be expensive, so Durant could end up paying a lot of money to maintain his wig.

Psychological stress: Wearing a wig may cause him psychological stress and discomfort in social situations

Negative public feedback: Wearing a wig could open Durant up to criticism from fans and other players.
Read More: Dean Martin Hairpieces 
How to Choose A Toupee for Kevin Durant?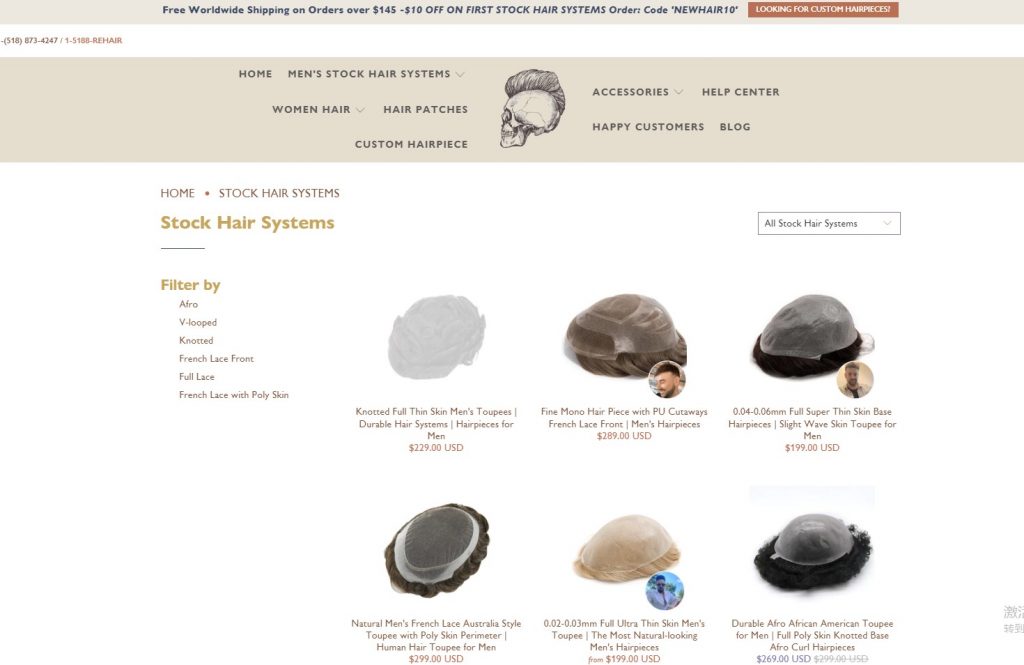 When looking for a toupee, it's important to choose the right style and color. Select a side parted midi length wig with natural waves and a color that matches your skin tone. Also, it is essential to pick a toupee that is made of high-quality materials to ensure that it looks as natural and realistic as possible. Here I will recommend Rehairsystem toupee store to help you buy the right toupee.
In our toupee shop, you can find the perfect wig at an affordable price. Our store is known for its excellent customer service and the wide selection of options for those looking to change their hairstyle.
For those looking to get the same style as celebrities, our toupee shop is the perfect place to go. We have a wide range of wigs that will help you achieve the same look as your favorite celebs. In fact, Our store is known for its selection of stylish and trendy wigs.
Learn more: https://rehairsystem.com/
FAQs
Does Kevin Durant have a hair issue?
Kevin Durant has been known to change his hairstyle frequently, and there have been instances where he has been teased for his hair loss.
Why does Kevin Durant wear 35?
Kevin Durant wears 35 as his jersey number to pay homage to his childhood coach, Charles Craig, who was murdered at a young age. Coach Craig wore 35 during his playing career, and Durant has worn it ever since to honor his memory.
Why does Kevin Durant wear 7?
Durant also wore 7 during his time with the Team USA National Basketball Team and in his early playing career with the Seattle SuperSonics and Oklahoma City Thunder. The reason for this number choice has not been publicly confirmed by Durant.
How to get Kevin Durant's haircut?
1. Look for a skilled barber who is familiar with modern hairstyles.
2. Ask the barber for a fade haircut on the sides and back of your head, leaving the hair on top longer.
3. The hair on the top of your head should be styled into a messy, textured look using a hair wax or pomade.
4. Show your barber a picture of Kevin Durant's haircut for reference.
5. Keep your hair length and texture in check by getting regular trims and using high-quality hair products.
Conclusion
Kevin Durant's hair has been a point of discussion among fans and the media for years. While some may view his hair loss as a natural part of aging, others believe that he should consider wearing a wig. If Durant decides to wear a wig, it could boost his confidence, make him look younger, and improve his media image. However, wearing a wig comes with both advantages and disadvantages, and Durant should carefully consider his options before making his decision. Ultimately, it's his confidence and happiness that matters the most.