Trae Young, the NBA star player, is known for many things, including his unique hairstyle. Here we'll take a closer look at Trae Young's hair, explore its current state, is it balding or not, and discover what he has to say about it.
Who is Trae Young?
Trae Young is a young and talented American professional basketball player who is currently playing for the Atlanta Hawks in the National Basketball Association (NBA). He was born on September 19th, 1998, in Lubbock, Texas.
Young started playing basketball at a young age, and he quickly excelled in the sport. He played college basketball for the Oklahoma Sooners and was named the Big 12 Freshman of the Year in 2018. After just one season in college, he decided to declare for the 2018 NBA draft.
In the 2018 NBA draft, Trae Young was selected as the fifth overall pick by the Dallas Mavericks, but he was later traded to the Atlanta Hawks on draft night. Young quickly became one of the Hawks' most important players, and he was named to the NBA All-Rookie First Team in 2019.
In the 2020-21 season, Young led the Hawks to the Eastern Conference Finals, where they lost to the Milwaukee Bucks. He has also been selected to two NBA All-Star games in his career.
As for his net worth, Trae Young's estimated net worth is around $8 million. He is also known for his unique hairstyle, which includes curly, blonde hair that is often styled in a mohawk.
What's Wrong with Trae Young's Hair?
Trae Young's hair has been a topic of conversation in the NBA world for quite some time now. One of the most notable things about it is that it looks unfinished as if the stylist forgot to finish it. His hair has a unique look, with curls and waves all over the place. It appears to be in an awkward stage between growing out and being styled. However, is there anything truly wrong with Trae Young's hair? It is subjective, but many fans seem to think so.
NBA Fans' Feelings on Trae Young's Bizarre Hairstyle
Despite having a unique style, Trae Young's hair has received plenty of criticism as well. Many fans have taken to social media platforms to share their opinions on his hair. Some say that he needs to get a haircut or that he needs to style it more consistently. While others appreciate his unique style, it's hard to ignore the amount of criticism he has received.
What Does Trae Young Speak About His Hair?
My hair is different that a lot of people's. I like my hair. I like the fade. I like the little design I have. I'm cool with it. Obviously, my hair is thin on the top, so it looks like a bald spot. But I really could care less. If that's what makes them sleep well at night. I'm cool. I'm sleeping well.
Trae Young Hair Type
Trae Young's hair is a very loose curl pattern ranging from 2C – 3A. His curls are often unruly and wild, giving him a distinctive look on and off the court. While these curls may look great, they have also resulted in a few patches of bald spots.
Trae's Hair is Bald Spot
Trae has a bald spot on the back of his head where his curls do not grow, leading fans to speculate on why this may be happening. Some speculate that it's due to a condition, while others say that it's due to styling his hair too tightly.
Trae Young Hair (Current Look)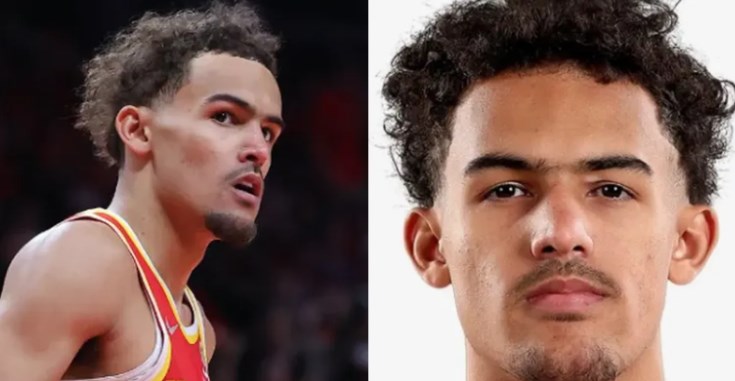 While Young's hair has undergone some changes over the years, his current look is still very distinctive. His hair is curly and wavy, with some strands long and some short, giving him a messy and wild look. While some suggest he style his hair more consistently, his look is unique and has become recognizable.
Is He Balding?
Pictures and basketball footage indicate that Trae's hair is thinning at the crown of his head, but it doesn't seem likely that he will undergo a hair transplant anytime soon.
Despite his lucrative basketball career, he would first need to get a short haircut to allow for the procedure. However, Trae may be hesitant to do so because he seems to enjoy his current long hairstyle, which helps to conceal his hair loss.
While some may recommend getting a haircut right before the transplant, this would not be effective as the transplanted hair will fall out between two to eight weeks after surgery. Hair growth can take up to a year to show results, and since basketball players do not wear head protection like in football, it would be noticeable to everyone that he had undergone the procedure.
Given the demands of his basketball career, it is unlikely that he would take time off for the surgery, as seen in the case of LeBron James.
Also Read: Is David Spade Bald?
How to Solve The Problem of Hair Loss?
Men who experience baldness have a choice between hair transplants and wigs as possible solutions. Wearing a toupee is suggested as a feasible way to address baldness due to several benefits.
Firstly, It is generally more affordable compared to undergoing surgery for hair transplants.

Secondly, it is a quick and easy solution with the advantage of flexibility, allowing you to experiment with various hairstyles and colors without undergoing any invasive treatments.

Hair transplants involve risks associated with any surgical procedure, whereas wearing a toupee is completely risk-free.

A toupee requires relatively low maintenance compared to hair transplants, which may necessitate frequent follow-up appointments and additional treatments.
Therefore, here I will recommend to you the hot products of repair system, a toupee shop, to help you perfectly solve the problem of baldness. That is Rehairsystem.com.
This is the leading provider of quality hairpieces and hair systems for men experiencing hair loss. Our shop offers a wide range of styles, colors, and sizes to suit different preferences.
We offer a wide range of hairpieces and hair systems that are easy to use, comfortable, and natural-looking. Our hairpieces are made from the highest quality materials and are designed to provide a natural-looking appearance.
Upgrade your hairstyle with this Australia Style Men's French Lace Toupee. With a hair length of 6", base size of 8"x10", and hair density of 120%, this toupee offers comfort and style. Its slight wave gives you a casual look for any occasion.
Our French Lace Toupee base offers breathability and softness for your scalp. The center of the base has imported French lace, while the perimeter has 10.10-0.12mm PU skin for durability. Plus, 1 inch of transparent skin around the perimeter reinforces the shape of the toupee.
Hair Length: 6"

Base Size: 8"x10"

Hair Density: 120%

Hair Style: Free Style

Hair Wave: Slight Wave

Hair Type: Indian Human Hair

Replacement Period: 6-9 Months

Base Type: French Lace in Center with 10.10-0.12mm PU Around

Price: $299.00 USD
Check this Full Ultra Thin Skin Men's Toupee: the Most Natural-looking Men's Hairpiece. Made with Indian Human Hair, this hairpiece has a hair length of 6", a slight wave, and a density of 90%-100%, ensuring a natural appearance.
Unlike other hairpieces, this toupee has no knots all over the base for an undetectable look. The hairpiece is available in most colors, and the 0.02-0.03mm base thickness allows for a comfortable, skintight fit.
Hair Length: 6"

Hair Style: Free Style

Hair Wave: Slight Wave

Hair Density: 90%-100%

Base Size: 8"x10", can be cut

Color: Most colors are available

Base Thickness: 0.02-0.03mm

Replacement Period: 1-2 Months

Hair Type: Indian Human Hair ( Normally Gray hair is Synthetic)

Knots: No Knots All Over The Base

Base Type: Full Ultra Thin Skin, V-looped throughout

Price: $199.00
Conclusion
Trae Young's hair is just as unique as his incredible basketball skills. It's a topic of conversation in the NBA world, with fans and critics both sharing their thoughts and opinions. While some suggest he change his hair completely, Young seems content with his unique style. Regardless of your opinions on his hair, one can't deny that it adds an element of personality to his overall image.