Hair replacement systems offer a solution for people experiencing hair loss or thinning. Whether you're in Singapore or the USA, finding the right hair replacement system isn't easy. With numerous options available, it's essential to know where to look and what to consider when purchasing a hair replacement system. In this article, we will list you many hair replacement system stores in the US and Singapore. Also, give you some tips on how to choose among them.
Understanding the Hair Replacement System
The hair replacement system is a non-surgical solution designed to address hair loss or thinning. It offers individuals the ability to regain a natural-looking head of hair, boosting their confidence and self-esteem. Understanding the basics of a hair replacement system can help individuals make informed decisions about whether it is the right option for them.
Components of a Hair Replacement System
Base Material: The foundation of the hair system, typically made of lace, monofilament, or polyurethane. The base material provides durability and allows for ventilation.

Hair Type: Hair used in the system can be natural human hair or synthetic fibers. Human hair offers a more realistic look and versatility, while synthetic hair is often more affordable.

Attachment Method: Hair systems can be attached using adhesive tapes, glue, clips, or micro-links, depending on personal preference and desired longevity.
Types of Hair Replacement Systems
Toupees: Small hairpieces that cover specific areas of hair loss, such as the crown or top of the head.

Hairpieces: Larger than toupees, these cover a larger area of hair loss.

Wigs: Full-head hair systems that cover the entire scalp and provide a complete hair transformation.
Benefits of a Hair Replacement System
Natural Appearance: High-quality hair systems are designed to blend seamlessly with existing hair, giving a natural look.

Versatility: Hair replacement systems allow for various hairstyles, including brushing, washing, cutting, and styling.

Boost in Confidence: Restoring a full head of hair can significantly improve self-confidence and overall well-being.
Maintenance and Care
Regular Cleaning: Hair systems need cleaning to maintain their appearance and hygiene. This involves gentle washing and conditioning, depending on the type of hair used.

Proper Storage: When not in use, hair systems should be stored properly in a clean and dry place to maintain their shape and quality.

Maintenance Appointments: Periodic visits to a professional can help adjust, repair, or replace the hair system as needed.
Its Increasing Demand in the USA and Singapore
In the USA, there is a significant increase in the popularity of hair replacement systems. Many individuals are opting for wigs, hairpieces, and extensions as convenient options. The availability of professional stylists specializing in hair replacements has made it even more accessible.
Similarly, in Singapore, the demand for hair replacement systems is on the rise. The multicultural society in Singapore values personal grooming, and people are concerned about their hair loss. The market offers a wide range of options, including high-quality human hair systems and advanced synthetic alternatives, making it easier for individuals to find a solution that matches their desired appearance.
The increasing demand for hair replacement systems in the USA and Singapore demonstrates the effectiveness and accessibility of these solutions. With the continuous development of technology and growing awareness, it is expected that the demand for these systems will continue to increase in the future.
Pros and Cons of Hair Replacement Systems
Pros
Modern hair replacement systems are designed to look incredibly natural.

Hair replacement systems offer versatility in terms of style, color, length, and texture.

Unlike surgical hair restoration procedures, hair replacement systems provide instant results. 

Hair replacement systems are non-permanent and can be easily removed or replaced.

Hair replacement systems are generally more affordable compared to surgical hair restoration procedures.
Cons
Hair replacement systems require regular maintenance to keep them looking their best.

Hair replacement systems are not a permanent solution for hair loss.

Some individuals may find it challenging to find a hair replacement system that fits comfortably and securely.
Hair Replacement System VS. Hair Transplant
The key difference between a hair replacement system and a hair transplant lies in their approach and permanence. A hair replacement system offers a non-surgical, temporary solution by using a hairpiece or wig to instantly restore the appearance of a full head of hair. It provides flexibility in terms of styling options and does not require any invasive procedures.
In contrast, a hair transplant involves a surgical procedure where hair follicles are harvested and transplanted, resulting in permanent hair restoration. While a hair transplant offers a more long-term solution, it requires a significant commitment in terms of time, cost, and the recovery process.
Both options have their own advantages and considerations, and the choice between a hair replacement system and a hair transplant ultimately depends on an individual's specific needs, preferences, and the extent of their hair loss. Consulting with a professional and understanding the pros and cons of each approach can help individuals make an informed decision that aligns with their desired outcome and expectations.
What to Consider When Buying Hair Replacement Systems?
Material Quality
The material quality of a hair replacement system is crucial for its overall appearance and durability. There are two main options: human hair and synthetic fibers. Human hair offers the most natural look and feels, as it can be styled and treated just like your own hair. However, it tends to be more expensive. Synthetic fibers have advanced significantly in recent years and can closely resemble human hair.
Base Construction
The base of a hair replacement system is what attaches to your scalp and holds the hair in place. Several base materials are available, including mesh, lace, silicone, or a combination of these. Mesh and lace offer excellent breathability and a natural look because they blend with your scalp. Silicone bases provide a secure fit, but may be less breathable.
Size and Fit
Ensuring the right size and fit is essential for a comfortable and natural-looking hair replacement system. Measure your head accurately, paying attention to circumference, temple-to-temple distance, and front-to-back measurements. Consult the manufacturer's size guide and choose a system that matches your measurements. Most hair replacement systems have adjustable straps to achieve a better fit.
Hair Texture, Color, and Density
To achieve a seamless blend with your existing hair, consider the texture, color, and density of the hair on the replacement system. Look for a texture that matches your natural hair, whether it's straight, wavy, or curly. Pick a color that closely matches your hair color, or opt for a system that can be custom-colored.
Maintenance and Care
Understanding the maintenance and care requirements is crucial to ensure your hair replacement system stays in good condition. Synthetic hair systems typically have specific care instructions, such as using specific products and avoiding heat-styling tools. Human hair systems require more maintenance, including regular shampooing, conditioning, and styling.
Selecting the Best Hair Replacement System in Singapore and USA
The USA Physical Stores
Hair Replacement Center
Description: HRC specializes in the finest ready-made hairpieces, hair replacement systems, and hairpieces for men. They also make perfectly customized human hair pieces toupees, wigs, and hairpieces exactly as you desire.

Address: 11755 Wilshire Blvd #1250, West Los Angeles, CA 90025

Areas served: Los Angeles and nearby areas

Phone: (800) 931-1000
Review:
Best Hair System
Description: Best Hair System provides hair replacement systems, supplies, and services. And they work with anyone dealing with hair loss and looking for a practical non-surgical solution without committing to a contract. They offer free on and offline consultations to answer any about our products or services

Address: 9830 6th St STE 102, Rancho Cucamonga, CA 91730

Areas served: Diamond Bar and nearby areas

Hours: 9 AM–6 PM

Phone: (855) 788-1188
Review:
The USA-Based Online Retailers
Lordhair
Website: https://www.lordhair.com/
Description: Lordhair is an established supplier of premium-quality hair replacement systems for men and women. They offer both stock and custom-made systems made from real human hair. Their website provides comprehensive product descriptions, styling tips, and a virtual try-on feature.
HairBro
Website: https://www.hairbro.com/
Description: HairBro is a well-known provider of real hair replacement systems, including wigs, hair extensions, and hairpieces. They offer a variety of styles, colors, and base materials to choose from. Their website features user-friendly navigation and helpful guides on selecting the right system.
Singapore's Physical Stores
Aderans Salon
Description: Aderans Salon is a well-known name in the hair replacement industry. Aderans is a global company that specializes in hair and scalp solutions, including hair replacement systems. Aderans Salon is a division of Aderans, focusing specifically on providing professional hair replacement services in salon settings.

Address: 360 Orchard Rd, #02-03/04 International Building, Singapore 238869

Areas served: Singapore

Hours: 10:30 AM–7:30 PM

Phone: +65 6735 9696
Review:
Aremyhair
Description: For more than 15 years, we at Aremyhair by JPG Enterprise Pte Ltd have specialized in providing the best-quality, custom-made, non-surgical hair replacement systems for men and women across Asia and worldwide. As a fully integrated hair center, They also provide treatment for thinning and damaged hair.

Address: 8A Perak Rd, Singapore 208129

Areas served: Singapore

Hours: 10 AM–7 PM

Phone: +65 6225 2022
Review:
Singapore-Based Online Retailers
Ashley & Martin
Website: https://www.ashleyandmartin.com.sg/
Description: Ashley & Martin is primarily a hair loss clinic that also offers real hair wigs and hair systems. Their products are designed to provide natural-looking coverage and enhance self-confidence.
Bee Choo Origin
Website: https://beechoohair.com/beechoo.com
Description: Bee Choo Origin is a well-known hair treatment salon that also offers real hair wigs and hair systems. They utilize quality materials to ensure a natural appearance and offer personalized fitting services.
Buy Hair Replacement Systems from Rehairsystem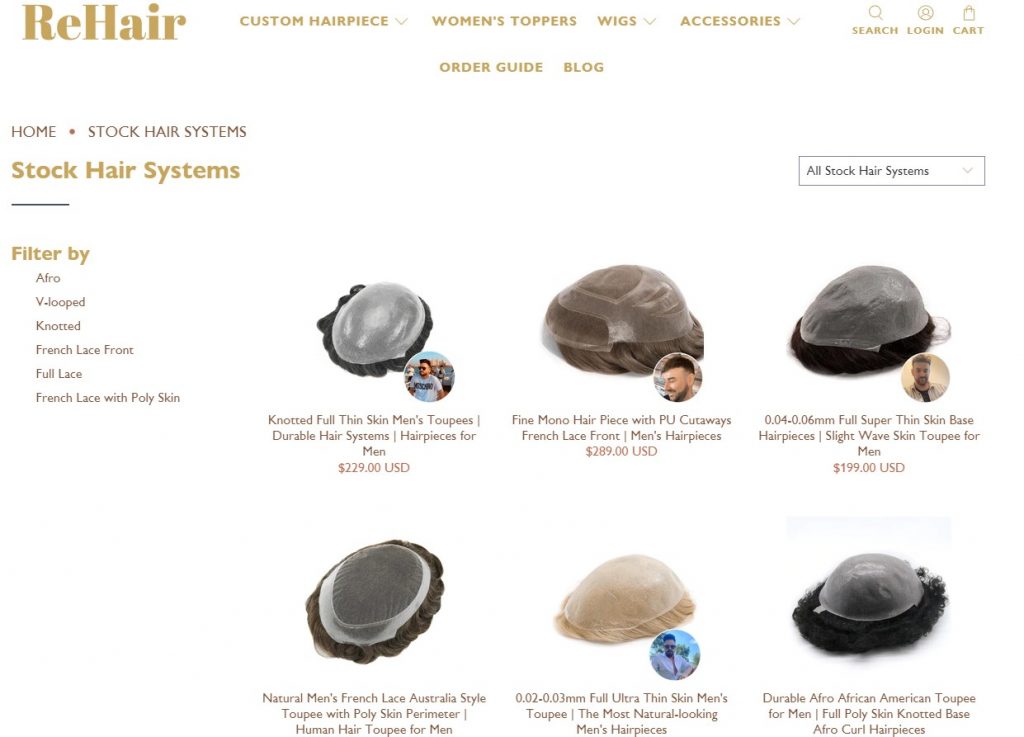 Rehairsystem.com is a trusted online toupee store that specializes in providing high-quality hair replacement systems. With a wide range of options and a commitment to customer satisfaction, we cater to customers worldwide, including those in Singapore and the USA.
You can find a diverse selection of hair replacement systems to suit your individual needs and preferences. Our store offers a variety of styles, colors, lengths, and textures to ensure a seamless match with natural hair. Whether customers are looking for a full hairpiece, a partial hairpiece, or even custom-made options, we have a solution for everyone.
In addition to convenience and global accessibility, we maintain a focus on product quality. The hair replacement systems offered on our website are made from high-quality materials, including human hair and synthetic hair that closely resemble natural hair. The products are designed to be durable, comfortable, and provide a natural appearance.
FAQs
How long does a hair replacement system last?
Generally, a well-maintained hair replacement system can last anywhere from six months to a year or even longer with proper care.
Are hair systems better than hair transplants?
Hair systems offer immediate results without surgery and can be easily customized to achieve desired styles. On the other hand, hair transplants are surgical procedure that involves transferring hair follicles from one area to another.
How much does it cost to have a hair system?
A hair system can cost a few hundred to thousands of dollars.
Is a hair system a good idea?
A hair system is a good idea. Hair systems provide a non-surgical solution for individuals seeking to restore their hair's appearance quickly. They offer versatility in terms of styles and can be customized to match natural hair.
Conclusion
Purchasing a hair replacement system in Singapore or the USA requires careful thought and consideration. Factors such as the type of system, quality of materials, maintenance requirements, and budget all play a crucial role in finding the perfect solution. By taking these considerations into account, you can make an informed decision and find a hair replacement system that restores your confidence and gives you a natural-looking appearance.